When you think of great fictional mothers, who comes to mind? Marge Simpson from The Simpsons? Mrs. Weasley from Harry Potter? Mrs. March from Little Women? Well, this blog post isn't about them. Instead, we're celebrating Mother's Day by looking at twelve mother figures that we don't talk about for some reason.
#12: Donna Sheridan from Mamma Mia
If you haven't seen this movie yet…don't. The songs are pointless, the story is complete nonsense, the characters are forgettable, and everything else is insulting to Greece. But if there was one thing that was okay, it was Meryl Streep's character. I can't imagine how much stamina it would take not to disown your daughter when she invites three of your exes to her wedding without telling you (though you could argue Streep didn't snap because the movie is allergic to misery). And towards the end when Sophie breaks down and asks for help, Streep agrees and even gives us a tender moment where she sings about letting go while helping Sophie prepare for the wedding.
From the moment she gets pregnant, a mother has to put up with a lot of crap. While we're not unethical or sadistic enough to invite her exes to a wedding she has to attend, we still have to be fed, cleaned, sheltered, and cleaned up after for years. And since the movie at least understood that (to an extent), it only seems fair to bring it up.
#11: Mrs. McCallister from Home Alone
Granted, leaving your eight-year-old at home alone to go on vacation isn't responsible parenting. And the relationship between mother and son as shown in the beginning was strained. But when she realizes what happened, she almost immediately jumps to try to get back to Chicago. She calls local police to check on Kevin, she stays at the airport to get a flight back, she nearly trades her earrings for a seat, she snaps at a guy who tells her she can't get there in time for Christmas, she does whatever she can to get home. She shows that responsibility isn't so much never doing anything wrong so much as doing whatever it takes to set things right.
#10: Mrs. Brisby, Secret of NIMH
The Nostalgia Critic goes into better detail about the character, so I'll let the attached clip showcase the awesomeness of this fictional mother.
#9: Anne Juergens, Secret Life
Fair warning, I haven't seen the later episodes of this show, so I'll only focus on season one. The Juergens family is in shambles for almost the entire season. Fifteen-year-old Amy is pregnant, Anne and George are separating after his affair, and Anne's mother is showing early signs of Alzheimer's disease. But with all that on her shoulders, Anne keeps it together to help the family get through.
It's important to note that she doesn't coddle Amy during her pregnancy. She doesn't scold or belittle her for being stupid, but at the same time she makes it clear that Amy has to start thinking and acting like an adult if she wants to be treated like one. While she agrees to support whatever decision Amy makes about the baby, she still does everything she can to make sure Amy has the information she needs to move forward, regardless of whatever choice she makes.
#8: Jumbo from Dumbo/Kala from Tarzan
In many ways, Jumbo and Kala are pretty similar. They both stand up for their sons, they're both great sources of comfort and refuge, and they both get a song number. But their differences are fun to compare as well. Jumbo became a mother thanks to a flighty stork, while Kala rescued Tarzan after losing her child. Kala doesn't resort to violence to protect, but Jumbo reached a breaking point and felt she had to. Jumbo and Dumbo have a playful relationship—neither character even speaks—while Kala and Tarzan resemble the mother/son dynamic we see in everyday life. All in all, both have a well-earned spot on the list.
#7: Valka from How to Train Your Dragon 2
She tames dragons. She got taken while protecting her baby during a dragon raid. She tames dragons. She can recognize Hiccup by a faint scar on his chin. She tames dragons. She teaches Hiccups more about living with dragons peacefully, even showing him a flying trick which predictably comes in handy during the final battle. Did I mention she tames dragons?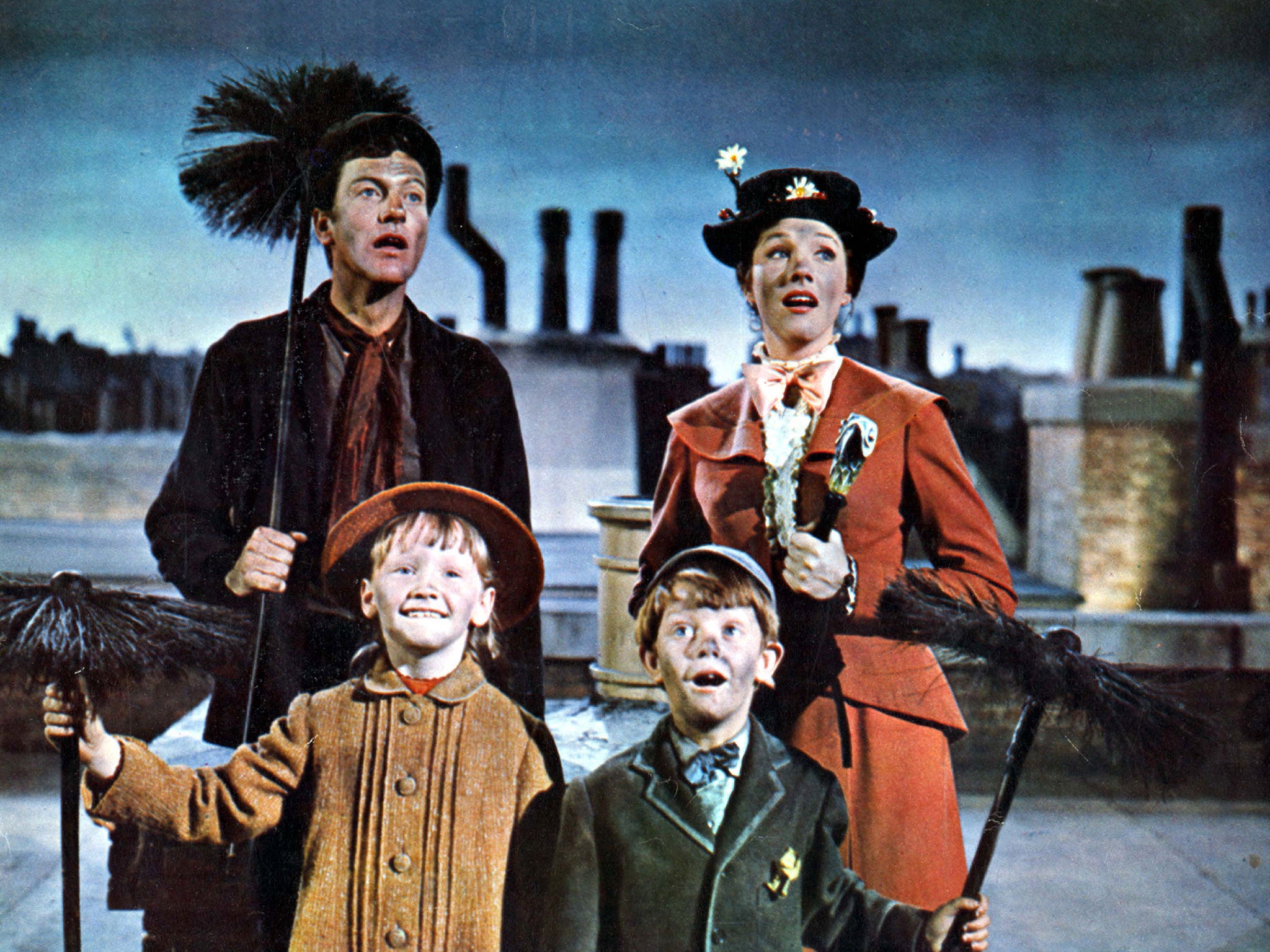 #6: Mary Poppins
When the topic of fictional parenthood from the movie Mary Poppins comes up, a lot of people are like "oh, George Banks! He learns how to be a good father and fixes the kite!" Okay, fair enough, but how come no one ever brings up the leading lady herself? She's the one looking after Jane and Michael for half of the movie. She's the one taking them on fantastic journeys and showcasing the power of laughter and imagination. She's the one teaching them generosity (and in the original book, responsibility). And she's the perfect blend of lighthearted yet stern, nice yet haughty, and respectable yet flexible.
#5: Mrs. Bucket from Willy Wonka and the Chocolate Factory (1971)
In the book and the 2005 remake, Mrs. Bucket is a side character with only a handful of lines. But in the 1971 film, her role is expanded in the first half, giving us a more developed relationship between her and Charlie. Through it's only limited to a few scenes, we see her trying to be encouraging but also realistic. She doesn't like seeing him down in the dumps, but she also doesn't want him to get his hopes too high in case they come crashing down. It's also interesting to note that, after the discovery of the third golden ticket winner, Mrs. Bucket is the one Charlie talks to. She's the one who witnesses his frustration, she's the one who reminds him that he wouldn't be the only disappointed kid who didn't find a ticket, she's the one who tells him to keep his chin up, and she's the one who tells him to keep his dreams in sight.
#4: Narcissa Malfoy from Harry Potter
                As the author and hardcore fans of the Potter books will tell you, mother love is one of the recurring themes in the story. Mrs. Weasley and Lily Potter are obviously the two most influential mother figures, but another key mother figure who isn't talked about a lot is Narcissa Malfoy. In nearly every scene she's in, she's concerned with the safety of her family. The first time we meet her, she's defying her husband's master to beg Snape to protect her son Draco. And in her last scene, she's keeping Harry safe so that she can go back to Hogwarts to find Draco. In interviews, Rowling explained that she used Narcissa's defiance to close the story so that it begins and ends with a mother's protection.
#3: Cora from Downton Abbey
As fun as it is to mock this soap opera, you have to admit that it also has its good moments. Cora happens to be one of them. Not only does she have the protective side going for her (an example is what happens when she overhears the nanny calling Cora's granddaughter a "wicket little crossbreed"), but she's also a consistent voice of reason. When Edith runs away to be with the daughter she had out of wedlock, Cora tracks her down and helps her find a solution that works for everyone. When her husband is being unreasonable when one of their daughters makes a drastic life choice, she sets him straight. And…yeah, that about sums it up.
#2: Elastigirl from The Incredibles
There's one scene that sets up a perfect example of Elastigirl's awesomeness, so I'll let the clip speak for me.
#1: Mandy from Ella Enchanted
For the sake of argument, let's ignore the movie and focus on the book.
From beginning to end, Ella's fairy godmother encompasses the depth, difficulty, and necessity of motherhood. She looks after Ella, but doesn't spoil her. She encourages her to be realistic, but doesn't stop her from pursuing her dreams. Though she won't take risks ("big magic," as she calls it), she'll do whatever she can for her goddaughter. She weeps when Ella weeps, she celebrates her joys, she shares hopes for a brighter future, and she's the most trusted confidant in the story. Mandy, the most underrated mother figure.
Photo sources:
http://www.tvguide.com/celebrities/molly-ringwald/photos/167083/14481/
https://disneymoviesfanatic.wordpress.com/tag/dumbombers/
Ranking Disney: #28 – Tarzan (1999)
http://collider.com/how-to-train-your-dragon-2-3-dean-deblois-interview/
http://www.independent.co.uk/arts-entertainment/films/news/new-mary-poppins-film-disney-to-set-movie-20-years-after-original-10501114.html
http://www.aveleyman.com/FilmCredit.aspx?FilmID=21386
http://www.wikiwand.com/id/Narcissa_Malfoy
http://www.mirror.co.uk/tv/tv-news/downton-abbey-elizabeth-mcgovern-who-2853465
http://www.paleohub.info/key/m/words-minnie-driver-ella-enchanted.html